Looks like the real Olympic event is the race to win Simone Biles' heart.
Yesterday, Biles' celebrity crush, Zac Efron, laid a special kiss upon the Olympic gold medalist's cheek.  Now, a new man has stepped forward seeking Biles' favor.
He's Simone's alleged "international boyfriend" and fellow gymnast, Arthur Nory Mariano.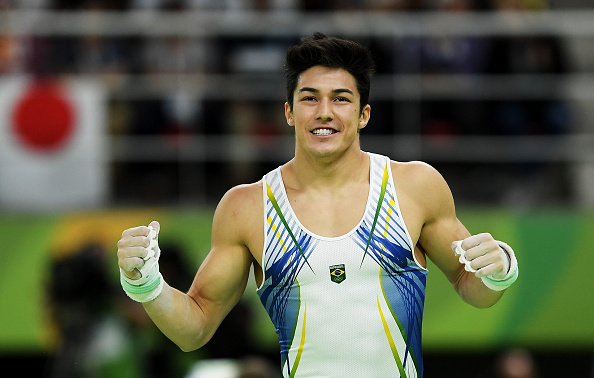 Photo by Matthias Hangst/Getty Images
Mariano wrote a few words on Instagram about Efron after Simone posted this kissing video of the "Neighbors 2" actor on Twitter.
RELATED: Simone Biles' reaction when she gets a kiss from her celebrity crush is the best thing you'll see today
proof : had to do a retake bc I thought we were taking a picture then he kissed me instead ❤️ pic.twitter.com/rld33V14qe

— Simone Biles (@Simone_Biles) August 16, 2016
In response, Mariano jokingly posted, "Hey @zacefron I saw her first … She is my girl. Proud of you Simone! You are phenomenal in whole world and special. You made history. Love u."
The 22-year-old Brazilian athlete added a crying-laughing and grinning emoji to make sure fans didn't think he was actually threatening Efron.
According to reports, Mariano and Biles have joked about their relationship in the past, calling each other boyfriend and girlfriend throughout the 2016 Rio Olympics.
Either way, Simone must be the luckiest girl in the world right now.