When the Carr Fire burned down this couple's River Ridge home, 78-year-old Charlotte Bailey thought she had lost everything. The brave volunteers from Samaritan's Purse quickly changed that around by helping her recover some of her personal items. Bailey stated she had lived in the house for 27 years with her husband Alan. The couple celebrated 46 years of marriage before he passed away in 2008. Wanting to keep the memories, Bailey created a special drawer of his personal items. As the wildfire consumed her home, she lost all the pictures of her husband in uniform during his time in Korea, and all the letters he wrote before the couple was married.
This week, volunteers from the Samaritan's Purse helped Bailey clean her property. After an hour of cleaning, a volunteer had a special surprise for Bailey's, finding her husbands dog tags. Volunteers also found her husband's graduation ring from the University of Iowa and his glasses. Bailey stated she was going to make a shadow box with them after she cleaned them after these items have helped her grieve. This small find made her feel like she hasn't lost everything. I'm holding back the tears, what an emotional moment!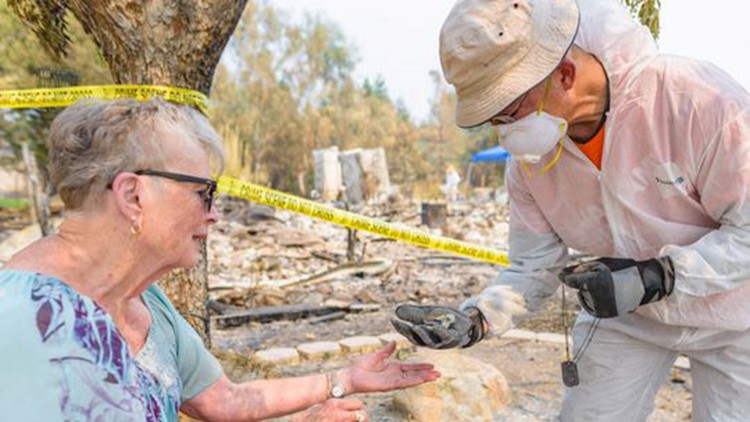 The Carr fire burning in Northern California is the fifth most destructive fire in state history and is just one of the 17 fires blazing through the Golden State. The fire, which began on July 23, is almost 50 percent contained, and has forced residents to evacuate the area through mandatory evacuations from fire officials.  The deadly wildfire destroyed more than 176,000 acres of land torched, more than 1,077 homes ruined and killed seven lives.
If you are in the California near the Redding area and would like to help with the Carr Fire, Samaritan's Purse needs volunteers to help homeowners who lost their homes salvage efforts and clean up the area. For information you can visit https://spvolunteer.org/ or call 410-9702. Homeowners who want the nonprofit's service can call 768-0739.