Editors Note: This article was updated on August 20, 2020, to showcase the new number of rat complaints in Chicago for 2019.
Sorry Chicago, I have some very bad news for you. Back in 2017, the city's 311 services received 2.6 times more rodent complaints than in New York City, according to data by real estate site RentHop. But that being said there is some good news, the complaints were down in 2018. But not enough to knock down Chicago from being number one. The most common species in Chicago and several other parts in the United States is known as a Norway rat. The city's website now warns, "They can crawl through holes the size of a quarter, tread water for three days, and fall unharmed from a five-story building." Big Yikes.
In 2018 the city received 40,057 complaints about rodents through CHI 311, which is 20% less than the previous year. However, at the beginning of 2019, there was a 7 percent increase compared to the same time period last year. From June to July of 2019, the city had 21,991 rat complaints. There also tends to be more reports of rats early spring to July. That number dipped in Winter, which makes sense since rats move less in cold temperatures. As far as what the results are for 2/20, well that has yet to be determined. But between you and me, I doubt Chicago will move from its place.
Chicago Remains 'Rat Capital' Of America: Study https://t.co/Y0tJVZRW6C pic.twitter.com/wTXgXVFcZg

— Crystal Lake Patch (@CLakePatch) August 9, 2019
Below is information that was published before the new updated information was included.
Goodbye New York, hello Chicago! Chicago has now been dubbed as the "Rat Capital" of America.
According to RentHop, the apartment search service, Chicago had the highest amount of rat-related complaints of four major U.S. cities. The data compiled by the website showed there were 50,963 overall complaints, and the most complaints per 100,000 residents (1,876.09) increasing  55 percent since 2014! Yikes! Experts believe this is due to the abundance of garbage and buildings, making it a great location for rats to seek shelter and food for survival. Many believe this could be a big problem for The Windy City, due to the diseases these fury critters pose, and the allergic reactions it might cause to animals and humans.
The study showed that the worst neighborhoods were Englewood, West Ridge, and Logan Square, where there were higher concentrations of dog poop. Tourists visiting Chicago may want to avoid the downtown area such as the Gold Coast The Loop, and River North.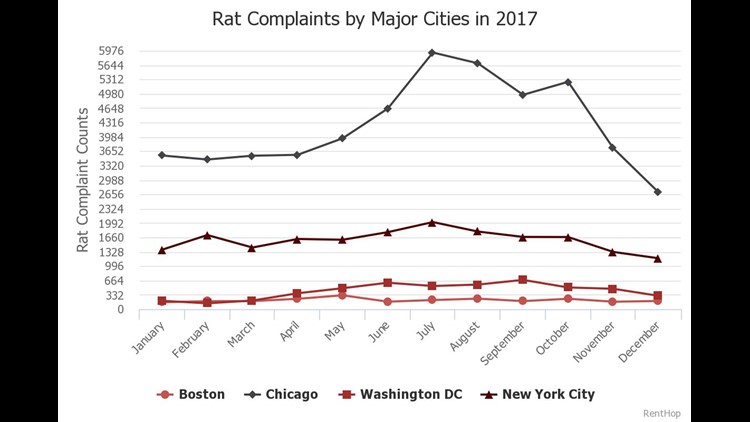 The Chicago Department of Streets and Sanitation spoke with the Chicago Tribune about how the high levels of complaints were not necessarily an indication of great rat infestation, but rather that they showed that Chicagoans cared about the health and safety of their communities. Streets and Sanitation encourage all residents to report any rodent activity to 311 so crews can quickly investigate and address any sighting. According to the department, they do conduct preventive baiting and have begun a pilot program to play dry ice into rodent burrows in parks and other green surfaces to suffocate rats.
The second highest rat infestation city? None other than Washington DC with a total of on complaint per 100,000 people in 2017 at 725.68, beating out the former rat-capital of the world, New York City, followed by Boston.
Ratatouille, is that you? Can you come collect your friends, please?