Earlier this month, an Atlanta megachurch asked its congregation to dig deep in their pockets to donate so the church could purchase a $65 million luxury jet.
In a video on the church website, pastor Creflo Dollar asked his 200,000 parishioners to donate $300 each to purchase the Gulfstream G650.
After negative public reaction, the video was quickly pulled down. Some of the harshest words came from the faith community, including contemporary gospel's Kirk Franklin, who told The Atlanta Journal-Constitution: "When I camouflage my 'greeds' to look like 'needs,' that's a shortage of character."
Dollar preaches what is known as the prosperity gospel, a religious doctrine that financial blessing is the will of God for Christians. He has been criticized before for living a lavish lifestyle with Rolls Royces, million-dollar homes and jets. The tax exempt status of his ministry — as well as five others — was once the focus of a U.S. Senate committee investigation. Dollar protested the investigation, which closed with no findings of wrongdoing.
Here's a closer look at Dollar and seven other pastors whose net worth is at least 200 times greater than the average person in their communities, according to Atlanta Blackstar and other sources.
Creflo Dollar
Net worth: $27 million. Average annual income in his community: $29,640.
Creflo Dollar leads one of the nation's largest megachurches, located in College Park, Georgia. The non-denominational church boasts 30,000 members, 350 employees, an 81-acre campus and mission work on six continents. Dollar also hosts a TV show, Changing You World.
The New York Times reported that Dollar owns a million-dollar Atlanta home and $2.5 million Manhattan apartment, drives a Rolls-Royce and is regularly transported by a private jet.
David Oyedepo
Net worth: Over $150 million. Average annual income in his community: $730.
Nigerian preacher David Oyedepo is one of the wealthiest preachers in the world. In 1981, he founded the Living Faith World Outreach Ministry in Ogun State, Nigeria, and it has grown to become Africa's largest congregation. The worship center holds 50,000 people.
Forbes has reported that Oyedepo owns homes in London and the United States and has four private jets. He also owns Dominion Publishing House, a thriving company that publishes all his books — which are often on the subject of prosperity.
Almost 55 percent of Nigeria's citizens live below the poverty level on under $2 a day. Nigeria has a population of 168,833,776 people.
Eddie Long
Net worth: $5 million. Average annual income in his community: $25,154.
Bishop Eddie Long preaches at New Birth Missionary Baptist Church in Lithonia, Georgia, in metro Atlanta. According to an investigation by The Atlanta Journal-Constitution, "During the period between 1997 to 2000, Long received more than $3.07 million worth of compensation and benefits from his non-profit charity, Bishop Eddie Long Ministries Inc."
The newspaper investigation concluded that Long was given a "$1.4 million six-bedroom, nine-bath home on 20 acres in Lithonia; use of a $350,000 luxury Bentley automobile" and "more than $1 million in salary, including $494,000 in 2000."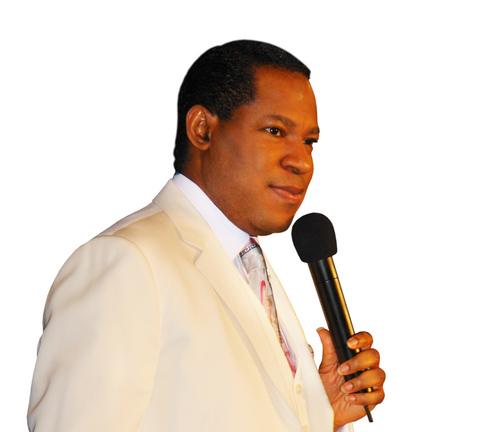 Christian Oyakhilome
Net worth: Over $50 million. Average annual income in his community: $730.
Nigerian Chris Oyakhilome preaches at Christ Embassy in Lagos, Nigeria, a megachurch with over 40,000 members, several of whom are successful business executives and politicians.
Oyakhilome accumulates his wealth through his businesses, which include newspapers, magazines, a TV station, a record label, satellite TV, hotels and extensive real estate.
T.D. Jakes
Net worth: $18 million. Average annual income in his community: $56,954.
T.D. Jakes earned his wealth as chief pastor of The Potter's House, a non-denominational megachurch in Dallas with 30,000 members. The Trinity Broadcasting Network and Black Entertainment Television both air his services and evangelistic sermons. He's also a New York Times bestselling author.
Jakes has been called America's best preacher by Time magazine and has been featured on its cover. He reportedly lives in a $1.7 million mansion in suburban Dallas.
Temitope B. Joshua
Net worth: $15 million. Average annual income in his community: $730.
Temitope B. Joshua heads the Synagogue Church of all Nations in Lagos, Nigeria, and is one of the richest preachers in the world with a net worth of $15 million.
SCOAN accommodates over 15,000 members on Sundays and has branches in Ghana, the United Kingdom, South Africa and Greece. Joshua also owns a Christian television network, Emmanuel TV.
Charles Blake
Annual salary: $900,000. Average annual income in his community: $27,907.
The Memphis Flyer reports that pastor Charles Blake of the West Angeles Church of God in Christ "earns a $900,000 salary and owns a 10,000-square-foot mansion in Beverly Hills, while most of his congregation lives in impoverished South Central Los Angeles." The church boasts 20,000 members weekly.
Matthew Ashimolowo
Net worth: $10 million. Average annual income in his community: $730.
Nigerian pastor Matthew Ashimolowo has a net worth of $10 million and sits at the helm of Kingsway International Christian Center in London. The church is reportedly the largest Pentecostal church in the U.K.
In 2009, the church posted profits of close to $10 million. Ashimolowo earned much of his wealth from various businesses, including Matthew Ashimolowo Media, which sells documentaries and Christian literature.