IKEA furniture is magical not only because it is stylish and cheap, but also because it can be transformed into pretty much anything you could want. One piece in particular, the Rast dresser, can be made into something for any room in your house. Plus, it comes unfinished which makes it super easy to get stared on one of these fun projects.
Nightstand
Though the Rast looks like a dresser, it's about the same size as a traditional nightstand. There are tons of hacks for all different styles that decorate the drawers and frame for a gorgeous looking nightstand. This one from Live Love DIY is so pretty and vintage. All you have to do is stain it and pick out pretty drawer pulls.
Desk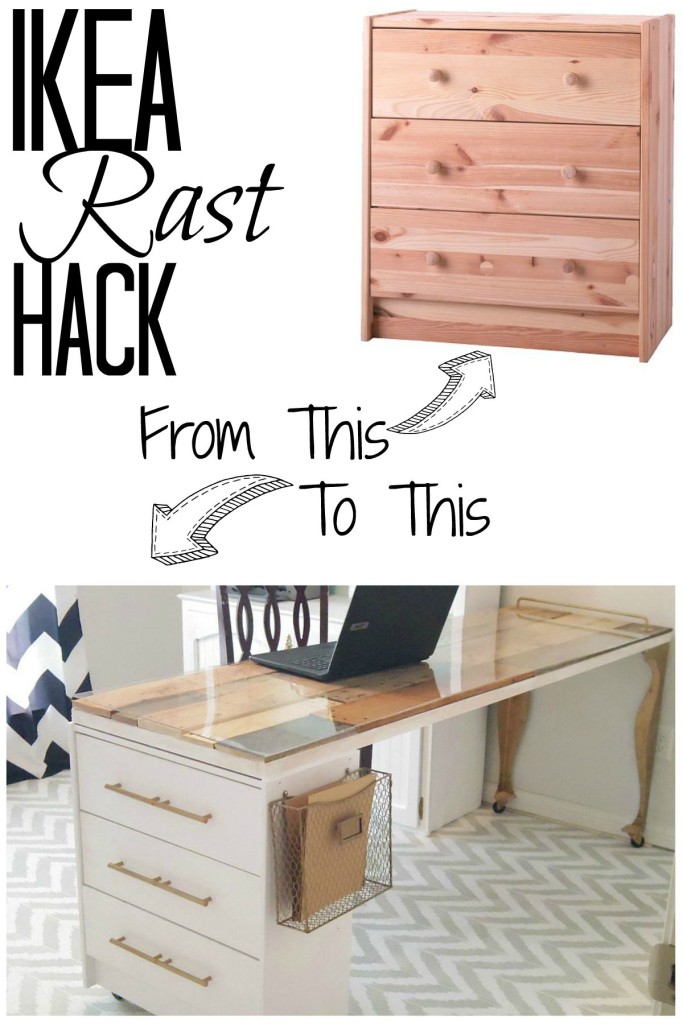 A small set of drawers makes the perfect base for a DIY desk. This stylish desk uses the Rast for support and storage on one end and simple table legs on the other. The top is made from a hollow door topped with palate wood and plexiglass. See how to make it with a super easy tutorial from Addison Meadows Lane.
Sideboard
The Rast is a slim dresser, so connecting two of them side by side makes a great sideboard. This one from IKEA Hackers is looks just like a vintage metal cabinet.
End of bed storage
Similar in set up to the sideboard, side-by-side Rasts make for the perfect storage unit at the foot of your bed. The piece is super stylish, and the drawers provide ample storage. And because the dressers aren't too wide, it won't be awkward at the end of a bed. IKEA Hackers shows us how to make this one too.
Bar cart
This clever hack takes the drawers out to covert the structure into a cute and functional bar cart. A few cuts on an additional piece of wood made a wine rack perfect for storing bottles. This tutorial from Weekend Craft shows all the steps of the transformation.
Statement piece
Rast dressers are easy to decorate however you want because they come unfinished. Get super creative and make a nice statement piece for an entry way or living space that will look really expensive because it's so eye-catching. The IKEA blog shows this trendy design for inspiration.
Built-in closet organizer
These compact dressers make the perfect base for a built-in wardrobe. Once everything is painted the same color, it really all comes together to look like an expensive custom unit. Technically, it is custom, since it's DIY, but you won't have to foot the bill for a design service. Find the instructions on how to build this unit on Homemade by Carmona.