McDonald's monopoly who? If you need an excuse to visit the golden arches a few times a week, McDonald's new "Trick. Treat. Win!" game has your back. The game, which is played by peeling off game pieces on specially marked McDonald's packaging or using the McDonald's app, starts on Friday, October 5. It's time to get your spook on.
The prizes are big for this Halloween themed daily sweepstakes. You can win a beach vacation, a new car, movie tickets for an entire year, Roku TVs, gift cards to different retailers and get this, one lucky winner will walk away with a hefty $50,000 check.
Here's how it works: there are three different game pieces that you can peel off the specially marked packaging. You can either peel off an instant-win food prize game piece, an instant win non-food prize game piece, or an entry tokens game piece which allows you to enter the daily sweepstakes and ultimately the final drawing for the cash prize. Every instant-win game piece has a barcode and 12-digit code to claim your prize instantly or you can add the code to your McDonald's app to save them for a later time.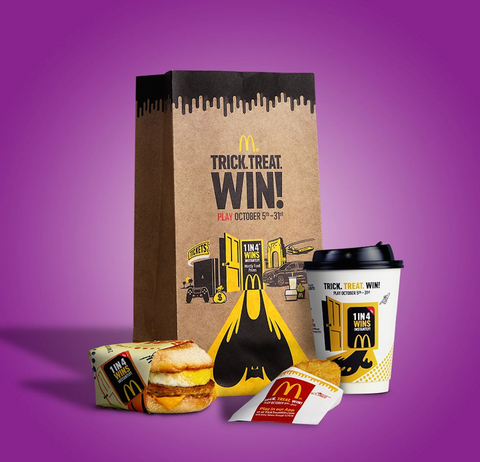 You can find the game pieces on most McDonald's items including medium fountain beverages, medium McCafés, McMuffin sandwiches, 10 pieces McNuggets, Quarter Pounder with cheese and others. Ordering something large, like a 20 piece McNuggets with large fries will yield you two game pieces.
If you want to enter the sweepstakes without purchasing anything from McDonald's, you can mail a self-addressed and stamped envelope to:
Trick. Treat. Win!
Game at McDonald's Game Piece Request, P.O. Box 49340
Strongsville, OH 44149-0340
McDonald's will send you two game pieces to you in the mail.
Participants also have the chance to receive 20 free entry tokens by using the code 20FREETOKENS on the McDonald's app to gain an additional 20 tokens to use towards the daily and final drawing.
The sweepstakes is open until October 31, with the final drawing on November 20, 2018. If you win, make sure you hang on to your original game piece, in case you are required to submit when claiming the prize. Check out www.tricktreatwin.com for the full rules.