In today's bizarre news, a Massachusetts town's entire police force  decided to call it quits. Police officers from Blandford Police Department in Western Massachusetts resigned after citing low pay, unsafe equipment, and unreliable vehicles, creating unsafe working conditions.
The department, which consisted of Former Interim Police Chief Roberta Sarnacki and three officers, collectively resigned treading on Monday, July 30. The former employees allegedly cited several grievances in a joint letter of resignation to chairwoman of the Blandford Board of Selectmen, Cara Letendre.
Part of the press release read,
"The town is asking officers to patrol in cars that have no a/c, no snow tires, and no four-wheel drive, on days that have been 90 plus degrees, and previously in blizzard conditions. Officers look pretty ridiculous patrolling with sweat dripping down their face."
The press release was signed by Sarnacki and former officers Chris Anciello, Kysten Scapin and Gage Terlik. The four cited several other reasons including expired bullet proof vests, nonfunctional police radios, and patrol cars with unreliable brakes.
According to the three, the officers are not only scared, but angry at the fact high they are putting their life on the line for $14 or $15 an hour. According to the U.S. Bureau of Labor Statistics the median hourly rate for a police officer in 2017, was $30.27 per hour.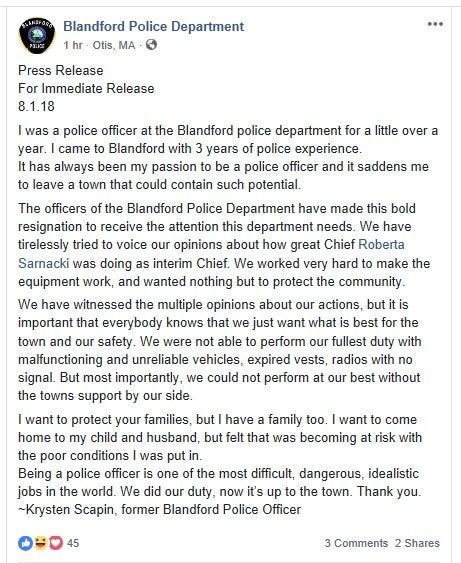 Chair Woman Letendre, stated the mass departure of the police force shocked all town officials, saying the officers did not fully communicate their frustration before resignation. She added the cruiser with bad brakes was repaired, but acknowledge the town has money woes, struggling sustainability-wise.
The move left the town of 1,200 residents without local police services, and is unclear how soon the town will replace its officers and how many it will hire. The town borders Russell and Huntington, Tolland and Otis. It currently has two churches, a Historical Society, a small building for the town's municipal offices and golf and skate area, and tennis club.
In an interview, longtime resident Todd Patterson stated he believes the police department is superfluous and leans heavily on the Massachusetts State Police Barracks. He stated the town had zero presence and zero crime, other than breaking and entering calls or domestic abuse.In the 2016-2017 annual report, Blandford Police Chief Kevin M. Hennessy cited 158 calls for police service in 2016.
Officers from the Massachusetts State Police and Hampden county Sheriff's Office have agreed to temporary patrol the area, and resume any additional duties required in the wake of the resignation of local officers.